C Piano Chord Tutorial: Easy
In this free beginner piano lesson we're going to quickly learn how to play a C piano chord. This is part 1 in a whole series of lessons teaching you how to play major chords on piano. It's a very easy chord to play and learn so let's get started learning right now! (Video demonstration, notation, piano diagram, and extra tips below)
C Piano Chord Video Tutorial
Why not take 1 minute and watch as I teach you how to play the C piano chord. It's a very easy chord to learn and play.
httpv://youtu.be/PpLb-F6iPPA
C Piano Chord Diagram
Here's a diagram of what the C chord looks like on piano. The red dots are the notes you'll play.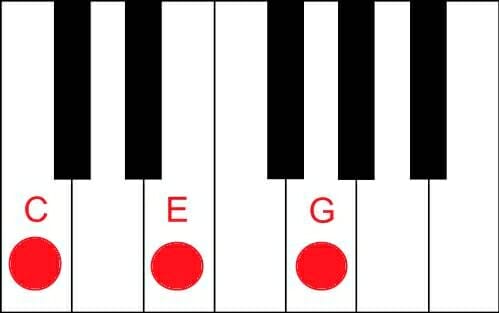 C Piano Chord Fingering
Building muscle memory is a very important of learning piano. That's why It's essential that you use consistent fingerings in both hands. One of the most common mistakes beginner piano students make is that they use different fingering every time they play something on the piano.
I recommend you use fingers 1, 3, and 5 in both your left and right hands to play this chord. This is considered standard fingering.
For reference:
Your thumb is finger number 1 (this is true for both hands)
Your middle finger is finger number 3 (this is true for both hands)
Your pinky is called finger number 5 ((this is true for both hands)
How To Practice This C Piano Chord
You should also be able to visualize what it looks like on the piano in your mind. Once you have a firm grasp of this chord and play it comfortably try to add it into a song. You could also add it into a chord progression or a song you know.
Important: Practice playing the chord in both your left and right hand. A common mistake that beginners make is focusing to much on only playing things in the right hand. Piano is a 2 handed instrument. 🙂
If you want a fun beginner piano song to use the C chord in, I recommend you check out this Amazing Grace Piano Lesson.
If you want to learn how to do variations on this chord I also recommend you check out this how to play variations on major piano chords lesson.
You can also learn more about playing major scales and more about music theory by checking out this lesson on understanding major scales. 
Your Next Step
Learning your major chords in all your keys is going to be super helpful for you as you to continue to learn piano. It will make learning everything else so much easier.
I'll be adding video demonstrations of the other 11 piano chords very soon. Make sure you keep checking the site for the upcoming lessons! You can also subscribe to the free email list and you'll be alerted to new piano lessons as they're added to the site. In the meantime enjoy playing the C major chord!
Update: Here is the Db Piano Chord Lesson. Here is the D Piano Chord Lesson, and the Eb Piano Chord Lesson.
————
Did you enjoy this lesson? Do you have questions? Please leave a comment below and let me know.
If you're new here be sure to subscribe to the pianolessonsonline free email list as well.
You'll be joining a fantastic community and also receiving new lessons in your inbox every time they're posted. 
You can subscribe on the top right of the site.