5 Best Piano Books For Intermediate Players
Are you looking for the best piano books for intermediate players?
You're in the right place.
In this article, we have five recommendations that will help you get your playing to the next level.
Let's get started. Not quite an intermediate level yet? Check out our beginner recommendations here.
Before You Get Started, Read This
All of the best piano books for intermediate players require reading music.
Our how to read piano sheet music and piano chord theory lessons will help you get into great shape.
If you're confident about your note reading skills on the piano to learn from these books, then let's press forward.
Learn How To Play Like Franz Liszt
If there's one guy in history I can think of who has complete mastery of piano technique, it has to be Franz Liszt.
Search for Franz Liszt's name and you'll see how legendary he really was.
If you want to keep building your technical foundation, you have to learn from Franz Liszt.
The great thing is that you can learn his piano vocabulary through his series of exercises, the aptly named Technical Exercises For The Piano.
This book contains 86 exercises that Franz Liszt used himself.
The book starts with finger isolation exercises in various rhythms designed to develop finger independence, expression, and endurance.
There are also chord progressions, various exercises in scales, and a ton of technique building exercises.
By working on the exercises in this book, you will gain the requisite technique and pianistic vocabulary needed to master the most complex works of the classical world as well as chops for contemporary piano.
Get a copy of Franz Liszt's Technical Exercises For The Piano here
How To Play Piano Like The Russians
For centuries, Russia and its neighboring nations like the Ukraine have bee producing some of the best pianists the world has ever seen.
Examples include Sergei Rachmaninoff, Alexander Scriabin, Nikolai Medtner, Modest Mussorgsky, Vladimir Horowitz, Sofiya Uryvayeva Martin, and Vitali Kuprij to name a few.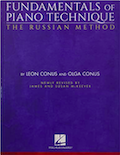 If you'd like to get deeper insight as to how the learn and master the piano, Fundamentals of Piano Technique – The Russian Method will help you discover time-tested principles and techniques.
Developed by Leon and Olga Conus, the book contains concise exercises for developing good playing technique, control, touch, nuance, and musicianship.
Here's where you can get a copy of Fundamentals of Piano Technique – The Russian Method
Now, if you want to learn how to develop crazy hand independence, check out the next book.
The Secret Sauce To Play Like The Greatest Composer Of All Time
Many would argue that Johann Sebastian Bach is the greatest composer in history.
The beauty of his compositions is such that they have withstood the test of time.
He is known for intricate compositions that involve independent voices weaving in and out, being played by only two hands.
With this in mind, studying Bach's works requires a great deal of hand and finger independence.
The most musical way to develop this is through his two-part inventions.
You can easily think of Bach's Inventions as a precursor to his beloved classic, the Well-Tempered Clavier.
His two-part inventions would always start with a theme being played in one hand and a response on the other. In a manner of speaking, this is very similar to the fugues Bach is renowned for.
Playing two independent melody lines using both hands can be tricky. However, it is a really awesome way of developing hand and finger independence.
Developing hand and finger independence is also necessary for playing contemporary keyboard techniques like walking bass.
Here's where you can get a copy of an Urtext edition of J.S. Bach's Two-Part Inventions.
Let's now get a little more basic but in a contemporary way.
How To Figure Out All The Scales You Need To Know For Contemporary Music
A sequence of tones known as scales have always been foundational to both classical and contemporary music styles.
However, the manner in which these scales are used are set in a different context for today's musical landscape.
This is why in Freejazzlessons.com we crafted a book that teaches you all the scales you need to play over various chords encountered in modern jazz, pop, and rock tunes.
The Ultimate Jazz Scales Book features:
Over 372 Of The Best Jazz Scales In The World.
Detailed Notation Of Every Scale Written In Treble & Bass Clef.
A Big List Of Great Jazz Chords You Can Use To Practice The Scales Over.
Jazz Theory & Practice Tips To Help You Master Every Scale In All Your Keys.
More than that, you can also get access to demonstration videos of all 372 jazz scales via a small upgrade.
You can pick up a copy of the Ultimate Jazz Scales Book here.
Now that we have the foundation set, let's get into more stylistic exercises.
How To Be A Complete Contemporary Keyboardist
Classical foundation builds your technique while jazz scales give you the basic vocabulary like your ABCs.
However, to really get into playing various songs in a variety of styles, you need to practice actual music.
Written by John Novello, The Contemporary Keyboardist – Stylistic Etudes is ice the critically acclaimed "bible" of contemporary keyboard playing.
These 86 studies cover over 17 contemporary keyboard styles such as jazz, rock, funk, blues, Latin, country, pop, and gospel.
This book features etudes of varying difficulty that are very suitable for intermediate piano players to advance to the next level.
Here's where you can pick up a copy of The Contemporary Keyboardist – Stylistic Etudes.
Final Thoughts
To get the most out of these books and incorporate them in your own playing vocabulary, here are a couple of tips:
Listen to recordings of the exercises or etudes you are about to learn.
Learn it one hand at a time first. Put them together once you're comfortable.
Learn and practice each lesson one bar at a time to really digest the concepts.
Play the exercises in different keys.
Use concepts you've learned in these books in other songs or while you are improvising.
I hope you enjoyed learning about the 5 best piano books for intermediate players. Happy practicing!