Amazing Grace Piano Lesson
Would you like an Amazing grace piano tutorial? Well, you've come to the right place.
Today, I am going to teach you how to play an easy and fun version of one of the best songs of all time.
You'll learn how to play the right part (melody) and the Amazing Grace piano chords too (left hand part). For ease of learning I break everything down step by step for you.
I want to make sure you really learn so this piano tutorial also includes a video piano lesson, a chord chart, and Amazing Grace sheet music too!
This specific arrangement is primarily for beginner piano students or people who have only take a few years of piano lessons. Let's get started learning now!
Amazing Grace Piano Tutorial Video
Why not take a few minutes and watch this video. You can listen to the whole arrangement and I break down step by step how to play the hymn.
Now, that you've watched the video lets check out the Amazing Grace Sheet Music. I've also have extra tips to help you learn more on the bottom. Be sure to scroll down.
Amazing Grace Sheet Music And Chord Chart
Here's the download for the Amazing Grace piano sheet music. I included the chord symbols and the notation of the exact piano chords I play in my left hand. You can play the chords exactly as notated or play your own version of the chords based off the chord symbol. Ultimately it's about whatever is easier for you to learn from!
Download the Sheet Music Here: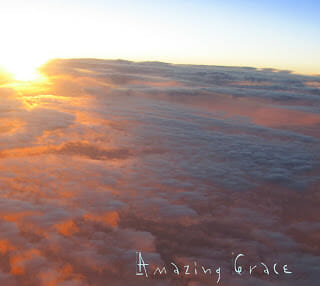 (Click to expand and open in a new window. Feel free to share online. The only thing I ask is you credit pianolessonsonline.com with a link back to the site if you do. Thanks.)
Now, let's learn some more strategies to help you play the hymn.
10 Tips To Help You Learn This Amazing Grace Piano Arrangement
Hands Separately
1. I would recommend that you start by learning each hand separately. First, learn how to play the melody in your right hand. Make sure you can play the melody evenly and smoothly before you move on to learning the left hand piano chords. (Watch and listen to how I break down each hand in the video above if you need more help doing this).
2. Once you're comfortable with the right hand practice the left hand piano chords individually and in time. You may want to invest in a good metronome to help you keep rhythm or find a free metronome online.
Individual Amazing Grace Piano Chords
3. If you need more help learning some of the individual piano chords in this song you can check out this lesson on the C piano chord and the D piano chord.
4. If you're more of an advanced piano player I also recommend you check out this lesson on how to spice up your major piano chords. The chord tricks in that lesson will sound great in this arrangement.
Sus Chords 
5. In this piano lesson we talk about how to play a sus chord on piano. To build a sus chord you start with a major triad and move the middle note (the 3rd of the chord) up a half step.
6. If you want to learn more about half steps you can check out this lesson on building the major scale.
7. Once you learn each part individually try putting both hands together. You could practice it very slowly at first and then when you're comfortable try playing along with me in the video.
What if You Play With a Singer?
8 If you're playing with a singer and you're not required to play the melody anymore you can just play the chords in both hands. Some singers like the melody played behind them but many do not!
9. In future lessons we'll talk about some more open chord voicings you can play to create a fuller sound. In the meantime you can just double the chords you have in the left hand in your right hand an octave higher.
10. In future lessons I'll also do teach you how to play some more advanced arrangement of Amazing grace on piano as well as some other hymns too. Keep checking back on the site.
Final Thoughts
I hope you enjoyed this easy Amazing Grace piano lesson. If you have questions or just want to say hi and thanks please leave a comment below.
If you're new here please subscribe to the pianolessonsonline.com email list. You'll receive free piano lessons in your inbox every time they are published and you'll be joining a fantastic community of musicians just like you. You can subscribe on the top right of this site. It's free of course.
Oh, and I just created a brand new Hallelujah piano tutorial for beginners. If you like Amazing Grace I think you'll really love that tutorial. Have fun!