7 Best Piano Books for Beginners
Are you looking for the best piano books for beginners?
Want to kickstart your piano journey with much needed guidance from a professional piano teacher?
Here we have our top piano book recommendations that will allow you to build the musical knowledge and skills you need to start playing piano fast!
We are going to look at some of the best piano books from both contemporary as well as more classic sources. With these foundations you can play understand the musical concepts so you can start playing popular songs in no time. We'll discuss some of the most popular books for adult beginners that cover everything from note reading to the basic piano techniques, digital piano, and playing techniques for your musical journey.
Let's get started with some piano fun!
ALFRED'S BASIC ALL-IN-ONE ADULT PIANO COURSE
Are you looking for that one single piano book to help you start from scratch? The Alfred Basic All-in-One Adult Piano Course is right up your alley.
With clear graphics and explanation of various concepts, the book takes you through the very basics of piano playing. This starts with proper sitting, distance, and body relation to the piano.
The book also teaches proper hand positioning on the keys and how to assume the fundamental 5-finger position.
In terms of educational and musical content, the book is carefully graded to take you through small steps.
This ensures that you can build a great foundation for playing piano. The structure of the lessons go from piece in simple rhythm within a five-finger position and slowly builds it all the way up to playing short songs in various keys.
Here's where you can get your copy of the Alfred Basic All-in-One Piano Course.
HEY PRESTO PIANO METHOD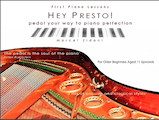 If any of you are like me who've done "traditional" piano lessons from decades past, you know for certain that pedaling often comes at a later date.
In fact, you might have gone through the first few grades without even using the pedal, until you start learning something like the A section of Fur Elise.
You also might have been turned off in the past by being asked to learn piano repertoire through children's songs. It just so happens that a lot of adult learners find such a prospect to be cringey.
The good news is that it doesn't have to be that way according to pianist and composer Marcel Zidani.
Marcel Zidani developed the Hey Presto! Piano Method for Older Beginners to provide a step-by-step method of learning the piano without trudging through cliched nursery rhymes.
The music in Hey Presto are all original Marcel Zidani compositions that are designed to spark interest for adult learners.
Best of all, this digital piano method even promotes the use of the sustain pedal early on.
The Hey Presto method takes you through the proper way of using the sustain pedal just as you would in a music conservatory.
Get a copy of the Hey Presto method here.
MAXWELL ECKSTEIN'S PIANO PIECES FOR CHILDREN SERIES
One of the most beloved collections of piano books for beginners is the Piano Pieces for Children series by Maxwell Eckstein.
As the name implies, this series method books is most suitable for children starting around the age of 4. However, adult learners can get great benefits from these books by using them as piano training material. As a matter of fact, they are great for building sight reading skills.
This set of piano lesson books are carefully graded, allowing the beginner to go from simple pieces to various pieces of classical piano repertoire in an organized fashion.
The series starts with "Piano Pieces for Young Children" where the pieces are mostly in the key of C, are very short (8 to 16 bars long), and arranged in simple keys. For anyone starting to develop sight reading skills, this book is a great place to start.
The second book, "Piano Pieces for Children", is one go-to reference for building repertoire for beginners. This is because the selection of repertoire here has a great mix of works from various baroque, classical, and romantic era composers.
Now let's look at a very famous compilation from the Baroque Era.
Here's where you can get this awesome book whether you're teaching younger students or you're an adult beginner!
FIRST LESSONS IN BACH
Johann Sebastian Bach is without a doubt one of the most influential composers from the Baroque Era.
His own music theory and pedagogical efforts can be argued to have formed the backbone of western music.
Therefore, any beginner will find great value in learning from J.S. Bach himself (vicariously at least) through First Lessons in Bach.
First Lessons in Bach is a compilation of pieces starting with the very famous "Minuet in G".
Just as a little piece of trivia, "Minuet in G" was only erroneously credited to Bach as Walter Petzhold was the original composer. It just so happens that "Minuet in G" is one of those pieces that Bach used as a pedagogical piece.
In this compilation, both piano teachers and beginners can learn the intricacies of playing in the style of Bach. Beginners can start to learn more advanced concepts like proper voice leading as well as hand independence from here.
The book starts with pieces in the key of G, and so First Lessons in Bach is great way to introduce beginners to the use of accidentals. In that respect, I can say that this book is not really aimed at complete beginners basic music theory given that there really isn't any piece in the key of C.
Since First Lessons in Bach is in the public domain, here's where you can get a free copy: https://imslp.org/wiki/First_Lessons_in_Bach_(Bach,_Johann_Sebastian)
Now let's go forward from classical to the Gospel.
YOU CAN TEACH YOURSELF GOSPEL PIANO
If you're looking for a more Gospel-oriented kind of piano book, Gail Smith's You Can Teach Yourself Gospel Piano would be a great choice.
In this piano book for adult beginners only, Gail takes you all the way from fundamentals of music starting with basic pitches and rhythms all the way up to more advanced concepts such as left and right hand fills and patterns.
As stated earlier, the book starts off with the necessary rudiments for you to start playing. It progresses to learning how to read sheet music, learning different rhythms, and starting with some simple song arrangements.
You also start learning about how to play chords and how to read chord symbols. A unique feature of this book is how you can apply various fills to chords and learn how to do that in a step-by-step fashion.
Because this is a Gospel piano book, the ultimate objective here is for you to take a lead sheet or a song from a hymn and turn it into a full arrangement for piano. This is why in the more advanced sections of the book, Gail focuses on teaching various left hand patterns and adding right hand fills and embellishments.
To get the most benefit out of the book, work your way through it in a progressive fashion by learning the concepts and patterns first. Once you have those patterns already practiced, practice applying those patterns in different keys and then in various tunes as well.
As the book is designed as a one-stop shop for Gospel accompaniment patterns and piano fills, it is best to take your time and digest them so you can incorporate them into your muscle memory.
Here's where you can order this great piano lesson book.
Going back to learning your basics, here's one book you shouldn't miss.
THE ULTIMATE JAZZ SCALES BOOK
Every piano student needs a compendium of basic scales, and one of best piano books for beginners in that regard is the Ultimate Jazz Scales Book.
The Ultimate Jazz Scales Book is a compendium of 372 of the most commonly used scales in jazz and popular music.
The book is organized according to what scales can be used over major, minor, dominant 7, minor 7(b5), diminished, and major 7(#5) chords. This is for practical purposes given that most students (especially those learning improvisation and soloing) want to know what scales work best for the most common chords in a song.
Inside the Ultimate Jazz Scales book, you'll discover:
Over 372 Of The Best Jazz Scales In The World.
Detailed Notation Of Every Scale Written In Treble & Bass Clef.
A Big List Of Great Jazz Chords You Can Use To Practice The Scales Over.
Jazz Theory & Practice Tips To Help You Master Every Scale In All Your Keys.
What's more is that the Ultimate Jazz Scales Book also has a version in video format. These Ultimate Jazz Scales Videos actually shows a sample of the scale being played on a keyboard, showing the actual notes as well as a sample chord where the scale works.
Order your copy here: www.freejazzlessons.com/special-scales-book/
If you're looking to learn how to play in a variety of styles, read on.
LEARN AND MASTER PIANO WITH WILL BARROW
Now, how would a complete beginner go from a complete zero to a competent pianist that can play in a variety of styles?
Apparently, Nashville-based pianist, Will Barrow has the answer.
Learn and Master Piano with Will Barrow is an expansive book and DVD bundle that takes you through the process of learning to play piano in a step-by-step process.
One of the great things about the book is that it gets piano students into playing popular songs right off the bat as a teaching tool. Gone are the cheesy songs
The program provides step-by-step instructions towards learning classic pop tunes like "Let It Be".
This course is contained in a total of 20 DVDs, 5 play-along CDs, and an instruction book containing sheet music and diagrams.
The play-along CDs, being recorded by actual bands, offer some of the best ways to learn how to play with other musicians and acquire groove skills.
The tracks can be played at various tempos so that beginners can build their skills in a proper, gradual manner.
As with many of these types of programs, Learn and Master Piano is designed for use at home. You can easily take your time learning each lesson as you have complete control over the pacing.
HOW TO LEARN FROM THE BEST PIANO BOOKS FOR BEGINNERS
With all of these books, how do you actually make effective use of them?
Let's talk about it some important learning tips.
1.     Start Listening to better play piano
The fastest way to learn music is by playing music and being able to hear it first.
Whatever it is you are trying to learn, whether it be from Alfred's Basic All-In-One Piano Course or J.S. Bach, find an example of how they are being played and listen to it a couple of times first.
When you are able to associate by ear the notes, rhythms, and other concepts you are trying to learn, you will have an easier time learning the piano.
2.     Learn in Small Chunks and Build
When you're trying to learn one concept, take it in small bites. For example, if you're learning a 16-bar song, start by learning and practicing a small 4-bar section first. If that's too difficult, cut it down to just 2 bars or even much less. Focus and learn that small segment you picked and master it. After that, learn the next smaller cut.
Once you've learned 2 small segments, put them together and practice playing them as a single unit. When you've mastered that, learn another segment then tag it in the longer one you've completed. Rinse and repeat until you have completed the entire song or concept.
3.     Start with Familiar Songs or Concepts
If you find any material in these books that sound familiar to you, start learning those first (as long as they are within your current level of playing or they are not too difficult). It's easier for many people to learn songs they grew up with rather than completely unfamiliar songs.
4.     Have a Consistent Practice Schedule
Learning piano is like learning a language or any other skill. To become natural at it, you have to work on it every day. Even if you just take at least 15 to 30 minutes of your time each day for practice, your skill will build over time as long as you are consistent in practicing.
5.     Accurate, Slow Practice is the Key
When you're learning piano, it's best to practice slow but accurate. The logic here is that you need to slow down so you can play something correctly. If you play something at a particular tempo and you make some big mistakes, that means you are playing it too fast. You have to slow down in order to give your brain time to process it and make it more automatic.
Remember that the secret to building speed on the piano is being able to play without having to think about what you're playing. At first, every new concept on the piano has to be thought out consciously, whether sight reading or scales, etc. However, once you have practiced it enough times slowly on your own or with a piano teacher, it's easy to get it to speed once you have given your brain time to become familiar to what you are learning. Only then can you speed up what you are learning and have more carefree piano adventures.
FINAL THOUGHTS
I hope that this piece on the 7 best piano books for beginners will be useful for your piano journey.
If you have any questions, comments, or ideas for the next piano lessons, feel free to post a comment below. We've also got a great article for intermediate level players here.
Happy practicing!