Beatles Piano Lesson: Learn Yesterday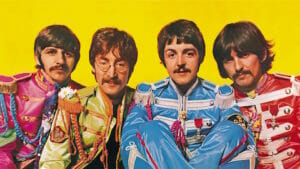 Do you want to learn an easy Beatles piano song?
Do you love the Beatles song Yesterday? Would you like to learn a super cool left hand piano pattern to help you expand your piano arrangements?
I hope you said yes to all these questions because in today's free Beatles piano lesson we're going to cover all these topics and much more!  Let's get started learning now (video, sheet music, chord chart, and extra tips below)
Beatles Piano Lesson Video Tutorial

Why not take 5 minutes and watch this video. I'll show you how to play the verse (A Section) of Yesterday and teach you how to expand these chords. We'll also talk about some piano technique tips to help you grab the left hand piano chords more easily.
Yesterday Piano Sheet Music Snippet
Here are the chords and the sheet music for Yesterday. Hopefully this will help you visually see what the left hand chords look like arpeggiated. Please also note that I simplified the melody in this arrangement to make it a little easier so everybody can play it.
If you haven't done so already, I highly recommend you watch and listen as well to the video. A very important part of learning contemporary styles is to listen as well as read the music. This short little Yesterday piano arrangement is no exception!
Be sure to also scroll down to explore a bunch of extra to help you learn more about this left hand arpeggiation pattern and playing this Beatles piano song.
(You're welcome to share this sheet music online but please credit pianolessonsonline.com with a link back to the site.)
8 Tips To Learn This Beatles Piano Arrangement And Left Hand Technique
Richer Left Hand Chords
1. The left hand arpeggio pattern I teach is very easy to play. First, start with a basic major triad. Then move the bottom and top notes down an octave. These are the root and 5th of the chord. The 3rd of the chord is kept the same and is now the top note of the chord.
If you want an example of how to do this please watch the video above or take a look at the first F chord in the Yesterday sheet music.
Classical Piano = Beatles Piano
2. This left hand arpeggio pattern I teach you in this lesson is actually quite similar to an alberti bass pattern. If you've played classical music before you should be quite familiar with this concept. Composer like Mozart and many other classical composers used it.
Essentially, you arpeggiate a left hand chord by playing the bottom note first, then the top note, then the middle note, and then the top note again…just like we do in the video above.
Often times the alberti bass features block piano chords more toward the middle of the piano.
If you're a beginner to piano and want to learn more about how to play these block chords out my lesson on lesson on the F major piano chord and the C piano chord.
3. Along these lines if you wanted to simplify this arrangement more you could just play block chords in your left hand and note even worry about arpeggiating.
Great For Ballads
4. The left hand piano pattern I teach in this video could theoretically work well at different tempos but it will particularly work great on ballads.
Small Hand Piano Technique
5. If your hands are too small to grab the expanded left hand chords just roll your hands and use the sustain pedal to help you. Make sure you move the pinky with you as your thumb travels up the keyboard. This will help you avoid tension in your hand.
Paul McCartney's Melodic Mastery
6. Notice how the melody starts on a non chord tone (the 9th of the chord) and then eventually resolves down to the root. By starting the melody on a non chord tone Paul McCartney creates a really subtle need for resolution and it propels the arrangement forward.
We do get our resolution a couple beats later and it sounds really pleasing to the ear. This is a very common melody technique. It's been used in hundreds of popular songs in both rock, pop, classical, jazz, and many other genres.
If you want to learn more about how to use the 9th check out this lesson on how to decorate major chords using the 9th.
7. Most of the melody of this tune moves in stepwise motion. As a result of the stepwise motion this song fits particularly well on piano.
8. If you want to learn more about some pop piano techniques I also recommend you check out this piano lesson on Margaritaville.
Beatles Piano Practice & What's On The Horizon
I hope you had fun with this Beatles piano lesson and had fun learning the left hand arpeggio pattern. I recommend you spend some time practicing Yesterday and also applying the left hand arpeggio pattern to other songs you enjoy.
If I get enough requests I'll teach you how to play the B section of Yesterday in another lesson. I also plan on teaching some other Beatles piano arrangements at another point. Keep checking back on the site!
Update: I have created several new Beatles lessons. You can check out my Let It Be Piano Tutorial, our Hey Jude piano lesson, and my Imagine Piano Tutorial right here.
Happy practicing everybody and see you soon!
———–
Did you enjoy this Beatles piano lesson? Do you have questions? Please leave a comment below and let me know.
If you're completely new here I highly recommend you subscribe to the free pianolessonsonline.com email list.
You'll receive new lessons in your inbox as soon as their published. You can subscribe on the top right of the site or right below this article. See you on the other side!