Country Piano Lesson: Learn A Famous Country Piano Lick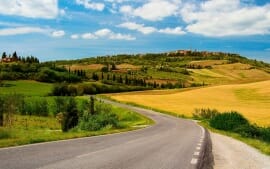 In this free country piano lesson I'm going to teach you how to play a really famous country piano lick. You'll hear this lick being used in thousands of songs so it will definitely be useful for you to learn.
This lick was originally made famous by the great Floyd Cramer but many great piano players have played variations of it since then. Even though it's technically a country lick it really can be used in other styles of music such as pop and rock. I've even heard it used in R&B, gospel, and even a little bit in jazz (think Vince Guaraldi). So, it's definitely useful!
Let's get started learning it now (video lesson, notation, tips, and more below).
Country Piano Lesson Video
Here's a video demonstration of me playing and teaching this country piano lick. When you finish watching it scroll down for extra tips and the notation.
httpv://youtu.be/u3GMf3LcrRc
8 Tips To Help You Master This Country Piano Lick
1. The chord progression I play in this country piano lesson (A, G, D) is a I bVII IV (I b7, 4) chord progression. You'll find this chord progression in hundred of songs. It comes from the mixolydian mode.
2. If you just take a look at the notes on each individual chord they come from the major pentatonic scale. The major pentatonic scale is simply a major scale with the 4th and 7th scale degrees moved. If you want to learn more about major scale check out this lesson on major scale music theory. We will also talk more about major pentatonic scales on future piano lessons on this site.
3. The lick essentially is built around 2 major chords shapes. These are the root position chord and the first inversion chord. When I move my hand up and down the keyboard I'm essentially grabbing these chord shapes and letting my other fingers just naturally surround the other notes of the riff.
4. I play this lick using straight sixteenth notes but you could easily swing them if the groove of the song you're playing has more of a swing feel.
5. You can hear this lick being used by pianists like Page McConnell from Phish, Bruce Hornsby, Norah Jones, Vince Guaraldi, Gabe Dixon, and many others.
6. If you love the pentatonic type sound of this lick I recommend you all check out this lesson on spicing up major piano chords using the 9th. It features a similar type of feeling.
7. I played this lick over 3 different chords  n this country piano lesson but remember you can always chop of the lick and just play the pattern over 1 chord.
8. Additionally, you can just play the pattern that I play over the root position chord.
Since these are pentatonic based notes there really aren't too many avoid notes so you can change the riff slightly to fit into all kinds of different situations.
Country Piano Lesson Lick Notation
Here's the notation from this country piano lick over the 3 chords I use.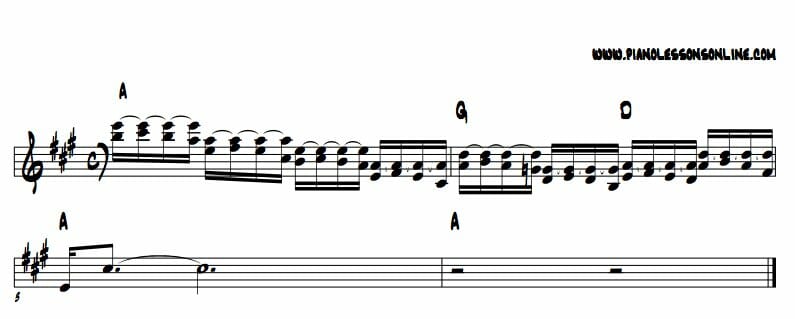 (Click to expand. Feel free to share this notation online but please credit pianolessonsonline.com with a link back to the site.)
Practice Tips For This Country Piano Lick
I recommend you practice this pattern over all 12 major chords. Knowing how to play it in all 12 keys will be super helpful for you in so many ways.
Not only is a cool riff but it will have an added bonus of helping you learn your major pentatonic scales. Additionally, if you're still getting comfortable with your first inversion and root position major chords it will help with that too!
From a technique standpoint make sure you keep your hands close to the keyboard when you do the octave shifts as well. It will help you keep better rhythm and control of your dynamics as well.
13 Songs This Country Piano Riff Will Work In
I also recommend you try throwing the riff in over a song. Actually applying licks you learn to real songs is a fantastic way to really master a new lick.
There are literally thousand and thousands of songs that it will work over. Pretty much anything with a major chord could theoretically work but if you need some suggestions here is a very short list. Notice this is a mix of country, folk songs, classic rock, and even some more modern pop. I told you it was versatile!
1. Don't Know Why by Norah Jones.
2. Fee by Phish.
3. Franklin's Tower by the Grateful Dead
4. Piano Man by Bill Joel. (He actually plays a variation of this riff already in this song! It's in 3/4 though so you'll have to change it slightly)
5. Your Song by Elton John.
6. Bless The Broken Road by Rascall Flatts.
7. Country Road by James Taylor.
8. Family Tradition by Hank Williams Jr.
9. Crazy Love by Van Morrison.
10. Alan Jackson by Chattahoochee
11. These Arms by Dwight Yoakim
12. Cowoby Take Me Away by The Dixie Chicks.
13. Whiskey Lullaby by Brad Paisley and Alison Krauss.
There are many more songs but this will get you started. Have lots of fun with this country piano lick and let me know how it turns out for you!
————–
I hope you enjoyed learning this country piano lesson. If you have questions or comments please feel free to leave them in the comment section.
I'm always adding new lessons to the site so check back often for new lessons.
If you're new here I recommend you subscribe to the Pianolessonsonline.com free email list to receive the newest lessons right in your inbox as soon as they're published.
You can subscribe on the top right of the site or right next to this article. Thanks and see you on the other side!