Best Digital Pianos And Keyboards: Choice Picks (Reviewed 2022)
When we talk about the best digital pianos and keyboards list, there isn't really one consensus.

Most of the time, it depends on the experience of the writer.

However, as a seasoned performing musician, I would like to provide some help via insight from my experience with these instruments.

Whether you are just starting on piano or a professional musician, our list of the best digital pianos and keyboards should help you know what to look for.

This ensures that you get to part with your hard-earned money on a worthwhile investment.

Let's get started.
Why Should You Consider The Best Digital Pianos And Keyboards Instead Of Acoustic?
Surely no electronic instrument can match the nuances of an acoustic piano from the sound to the feel.
However, having an acoustic piano means you need to deal with periodic tuning and maintenance.
3 Reasons Why Acoustic Pianos Can Be A Pain
Heavy handed pianists (myself included) need to have their pianos tuned and maintained at least every 6 months.
Acoustic pianos are also — generally speaking — designed as permanent fixtures in venues or rooms. They are very inconvenient to move around because of the weight.

In fact, you should never move an acoustic piano by yourself. You risk breaking some parts in the process.

This is why there are specialist piano movers. They specialize in transferring pianos properly from one place to the next.
If you live in a condo or apartment (especially one with really thin walls), you probably can't have an acoustic piano. You risk dealing with noise complaints from neighbors.
With these things in mind, an electronic piano is your best alternative.
7 Advantages Of The Best Digital Pianos And Keyboards
Other than the cons of having an acoustic piano, here are a few reasons why you might like to check out the best digital pianos and keyboards:
They don't go out of tune (unless the circuit board breaks or the pitch bend potentiometers go bad in some models).
The volume is more adjustable. It's possible to practice quietly and privately using headphones.
More portable and easier to move than an acoustic piano.
Generally cheaper at a mere fraction of the cost of an acoustic piano.
Offers more sounds and timbres.
Easier to record with. You can plug them directly to an audio interface or any recording unit.
They do not adversely respond to temperature changes and humidity as much as an acoustic piano.
How We Came Up With Our List
Here are the things we considered when selecting the best digital pianos and keyboards:
Features.
Familiarity (from my perspective as a pianist).
User experience and playability.
Price.
Now that we've clearly laid that out, let me mention a disclaimer.
Before You Continue Reading…
Take note that everything in this post is purely subjective opinion. It largely depends on my experience as a performing musician.
I will, however, provide reasons why I think the keyboards listed here are the best.
If you disagree, I will understand.
This is something that I expect from our readers. Please feel free to let us know in the comments section what you think are the best digital pianos and keyboards.
Another thing is that the keyboards featured here are not ranked from good to best, best to worst, or any sort of ranking.
We understand that each keyboard will be the best at an individual level depending on the user's needs and experience.
Next, I'm talking about brands and models that I have some experience with.
Lastly, since we're talking about pianos here, I deliberately limited the choices to only 88-key instruments.
And so without further ado, let's look into more portable, digital stage pianos first.
Alesis Recital Pro
Features And Demonstration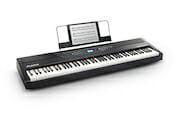 The Alesis Recital Pro is one of the best digital piano and keyboards at a budget-friendly price point.
It features an 88-key graded hammer action keyboard and 12 built-in sampled voices.
You can easily create layers and splits using two voices and add adjustable modulation, reverb, and chorus effects.
This particular digital piano also has a generous 128-note polyphony. This makes it more than sufficient to cover for pianistic techniques without worrying of any note dropout.
It also has 20-watt built-in speakers which makes it sufficient for practicing at home.
Here's a demonstration of the Alesis Recital Pro:
In terms of connections, the Alesis Recital Pro sports a 1/4″ headphone output. It automatically mutes the speakers for quiet practice. You can also connect a sustain pedal via the 1/4″ sustain pedal input.
For performing in large venues, two 1/4″ stereo outputs provide the means to connect to an amplifier or a venue's PA system.
The USB-MIDI port allows you to connect the Alesis Recital Pro into a computer or mobile device. This allows you to expand your current sound selection using virtual instrument plugins or access educational software.
While the Alesis Recital Pro comes with its own wall wart power supply, you can power it up as well with 6 D cell batteries.
Why The Alesis Recital Pro Is One Of The Best Digital Pianos And Keyboards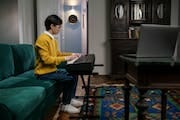 At about an MRSP of $379, the Alesis Recital Pro is a budget-friendly keyboard excellent for beginners up to professional musicians.
Its fully weighted keys and polyphony are definitely adequate for pianistic performance.
It has a very good stereo-sampled piano sound that's suitable for many musical situations.
The selection of sounds available are adequate for most situations.
Another thing is that it comes with a number of educational features that teachers and students would appreciate.
For example, it has a feature that allows the keyboard to be split in to two zones that have the same register. This is suitable for demonstrative teaching.
If you're thinking about performing with it on live gigs, it's reasonably lightweight. Moving it from one venue to the next is easy.
If you're just starting out or want a budget-friendly keyboard with reasonably pro features, the Alesis Recital Pro is a suitable instrument.
Let's look at another great line of digital pianos.
Casio Privia Series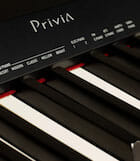 There was once a point when Casio wasn't one of those brands recognized as anything for the serious professional.
However, times have changed. Casio certainly packs some serious weight, especially with their Privia Series of digital pianos.
I decided to take on the entire series rather than a specific one. There is a Privia that can suit every keyboardist or pianist.
This by itself gives the Casio Privia a place here in our compilation of the best digital pianos and keyboards.
Features
Every Privia has these two important features:
An 88-key graded hammer action keyboard (Casio's Tri-Sensor system).
Piano samples from an unspecified 9′ grand piano that is integrated with proprietary AiR (Acoustic and Intelligent Resonator).
These 2 characteristics allow the Privia to emulate the sound and responsiveness of an actual grand piano.
In addition, every Privia has a wealth of sounds other than piano.
Connectivity options include a standard USB connection, 5-pin MIDI In and Out, 1/4″ outputs, and 2 headphone connectors.
Two headphone connectors are certainly useful for quiet practice and for teaching purposes. This is most especially useful in a piano lab setting.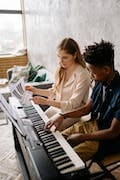 Students can engage in "quiet" piano work while teachers can simply plug into one student at a time. In a piano lab, 2-headphone-connector setups allows private monitoring by a teacher while others practice undisturbed.
Casio Privias can be a simple or as complex as needed. The most basic Privia model typically has all of the above-mentioned features.
Some models, such as the PX-S kinds, are slim and lightweight, designed for portability without sacrificing the scaled hammer action keyboard.
Other Privia models are designed as more permanent home digital pianos such as PX-870 that has a more cabinet style design with 3 pedals.
The most complex of the Privias are true synthesizers and workstations. The Privia PX-5S is a professional stage piano and synthesizer with realtime controls via assignable knobs and sliders.
The Privia PX-560M is the flagship model with music workstation features.
Speaking about polyphony, each Privia has a minimum of 128 notes of polyphony. This goes upward to 256 for the Privia PX-560M. You will certainly not run out of notes even when you abuse your sustain pedal.
Price And Real-World Performance
Having played a couple of Privias before, I did like the feel of the keybed. The piano samples sounds wonderful and can be useful in live gigging or recording.
Some models are reasonably lightweight. If playing from venue to venue is a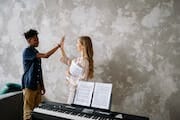 The best part about the Casio Privias are that they tend to be budget friendly. For instance, the Privia 560M is comparable to a Korg Krome or Yamaha Motif in functionality yet costs a lot less.
Casio Privias cost anywhere between $350 for the cheapest model up to about $1299 for the Privia 560M.
Up next, we'll take a look at some Korg keyboards.
Korg Krome 88
If you want flagship synthesizer features at a budget friendly price, the 88-key Korg Krome may be right for you.
Features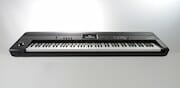 Like a number of past Korg Krome synthesizers it offers the classic Korg design of programs and combis. Traditionally, program mode features a single sound while combi mode is for splits and layers of up to 16 programs.
One of the greatest things about the Korg Krome is the drum track feature. This single button provides matching drum grooves to a program or combi patch.
You can either select from over 600 drum grooves recorded by professional musicians or create your own user drum grooves. Additionally, dual polyphonic arpeggiators provide inspiration for various note patterns.
The Korg Krome 88 is a fully equipped music workstation with its built-in 16-track sequencer. While it offers standard recording and sequencing, the Auto Song Setup provides a quick way to write songs.
You can also rely on piano-roll editing to get into the finer details.
In terms of sounds, the Korg Krome 88 has a vast selection including a meticulously sampled German grand piano and various categories of sounds inherited from the Korg Kronos.
The Korg Krome makes it easy to replicate the sound of various hits from decades past up to present.
In terms of playability, the Korg Krome 88 features the NH (Natural Weighted Hammer Action) keyboard. However, unlike other synthesizers, the keyboard itself cannot transmit aftertouch messages.
It also has a maximum polyphony of 120 notes,  more than enough for pianistic technique without notes dying off.
Controls are simple 4 assignable realtime rotary knobs, an XY pitch-bend modulation joystick, two assignable button switches, and 1/4″ jacks for pedal switch, expression, and sustain.
For backing up sequences, patches, and other data, you can use the built in SD card reader for storage.
Connectivity options include L/Mono and R 1/4″ instrument outputs, standard MIDI In/Out/Thru ports, and a USB port for USB-MIDI functionality and data transfer.
Demonstration, Real World Performance, And Price
Here's an example of the Korg Krome 88 being used featuring one of its grand piano presets:
I'm still floored by the amount of features on the Korg Krome.
I think it's the closest you can get to a Korg Kronos without breaking the bank. The keybed does reasonably replicates that of an acoustic piano.
The sounds, combis, and adequate realtime controls are a winner for me. Add to the fact that it only weighs 32.41 lbs (14.7 kg), it is a reasonably lightweight 88-key workstation with graded hammer action.
This makes the Korg Krome 88 a great studio and gigging instrument.
The Korg Krome has an MSRP of $1,799.99.
Let's look at another Korg keyboard. 
Korg SV-2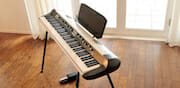 Looking for a modern keyboard with a vintage vibe? The Korg SV-2 is your best bet.
Features And Some Specifications
The Korg SV-2 is one of the most stylish in our list of the best digital pianos and keyboards.
The analog-style realtime controls and lack of an LCD display allows you to focus on performance.
Despite the vintage exterior, the SV-2 packs a lot inside. It has a big cache of sampled sounds.
Examples of these are various German, Italian, Austrian, and Japanese acoustic pianos, classic electric pianos, organs, mellotron tapes, string machines, and synths.
Like most of Korg's flagship 88-key instruments, the SV-2 sports the Korg RH3 hammer-action keybed that replicate the feel of an acoustic piano.
It also has the following:
Favorites keypad (to save and access your frequently used presets)
Various effects that you can place anywhere in the SV-2's internal signal chain
Left and right XLR and 1/4″ jacks
5-pin DIN MIDI in and out
USB connectivity
3 pedal jacks (sustain, switch, expression).
Included in the package is the Korg DS-2H pedal that responds to half pedaling, giving you great expressivity.
Lastly, the integrated 12AX7-A vacuum tube adds that vintage tube warmth to deliver a really satisfying sound.
A Few Thoughts About One of the Best Digital Pianos and Keyboards In History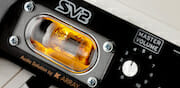 One of the things I love about the Korg SV-2 is the built-in 12AX7-A vacuum tube. It adds the classic tube warmth at the preamp stage. This is especially prominent with you add some overdrive to electric pianos, clavinets, and organ sounds.
The DS-2H pedal is also especially wonderful for added expression using half pedaling. This is very useful for some piano repertoire that require it.
The favorites keypad is also very useful for storing your favorite sounds. This is especially helpful for quick access to most useful patches when playing live.
The Korg SV-2 has that MSRP of $2,299.99.
It's true that Korg SV-2 is a really great instrument. However, if you want to go above and beyond, you may want to check out the flagship among all of Korg's keyboards.
Korg Kronos: One Of The Best Among The Best Digital Pianos And Keyboards
If you want to go to the big leagues with almost limitless possibilities, you'll want Korg's flagship keyboard, the Kronos.
The Korg Kronos is such a wonderful instrument that some of the most critically acclaimed artists like Dream Theater, Toto, Dirty Loops, and others make it their master keyboard.
The Kronos is available in 61, 72, and 88 key versions.
Of interest to many pianists like keyboard wizard Jordan Rudess is the 88-key Kronos:
Vast Sonic Possibilities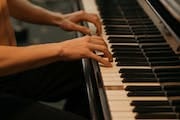 The Korg Kronos has a whopping total of 9 sound engines:
SGX-2 – An acoustic piano engine that replicates subtle nuances such as una corda and string resonance for enhanced realism.
EP-1 – The Kronos's electric piano engine that utilizes MDS (Multi-Dimensional Synthesis) designed to eliminate transitions between velocity-switched samples and unnatural behavior of looped samples.
CX-3 – Korg's tonewheel organ engine for all your Hammond organ emulation needs.
HD-1 – The Kronos's PCM sound engine, it houses multisamples of acclaimed Korg PCM sounds.
MS-20EX – An emulation of the Korg MS-20 analog syntheizer.
PolysixEX – Korg Polysix analog synthesizer emulation.
AL-1 – An analog synthesizer emulation featured in the Korg OASYS.
MOD-7 – FM synthesis modeling engine.
STR-1 – Plucked string physical modeling sound engine. This is a solution to difficulties related to modeling plucked string instruments using samples such as guitars, basses, mandolins, etc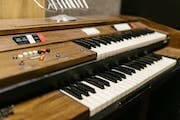 Each of these engines have their own polyphony specifications. This starts with the STR-1 having 40 voices all the way up to 180 voices for the PolysixEX.
The SGX-2 itself has 100 dual-stereo voices. You certainly won't suffer from any note dropout even if you create a massive orchestral sequence and play live on top of it.
Additionally the Korg Kronos 88 has:
RH3 graded hammer action keyboard
A wealth of connectivity options such as main L/Mono and R 1/4″ outputs, 4 individual 1/4″ outputs, MIDI In/Out/Thru. USB, S/P DIF optical, and headphones out.
2 balanced 1/4″ TRS audio inputs
Switch, damper, and expression pedal inputs
60 GB SSD storage
TouchView graphical user interface.
Plenty of realtime controls (XY joystick, ribbon controller, assignable knobs and sliders, switches, etc.)
Advanced KARMA modules.
The Price To Acquire The Monster Among The Best Digital Pianos And Keyboards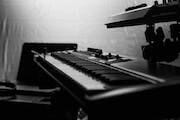 With all sorts of bells and whistles, the Kronos is a massive beast among the best digital pianos and keyboards in existence.
It's more than just a piano: It's all sorts of keyboards you might need in a single instrument.
I guess there's nothing else to say here other than the Korg Kronos is one of the most complete instruments.
As expected, it comes with a considerable price tag of $4,199.
Now let's check out the PC Series from Kurzweil.
Kurzweil PC Series
One of the most reliable and trusted stage pianos to have appeared on the scene are the Kurzweil PC series keyboards.
I first got started getting into Kurzweil keyboard controllers with the PC88 and then the PC2x as of late. The latest among these keyboards at this point is the Kurzweil PC4.
Starting from the PC88, each of the Kurzweil PC Series controllers sport:
A graded hammer action keyboard with aftertouch.
Standard 1/4″ stereo output jacks
1/4″ input ports for expression pedals, switches, and sustain pedals
MIDI in/out/thru ports
A minimum of 4 assignable sliders (9 sliders starting with the PC3k8).
A wide palette of sounds. The latest iteration of sounds coming from the V.A.S.T. sound engine.
Because of its performance oriented nature, it easy to switch from one patch to the next given that there are obvious categories assigned to each button (acoustic piano, electric piano, strings, pad, organ, etc.).
Most notable of these is the sampled acoustic piano patches that Kurzweil keyboards are known for.
Here's an example of the PC2x's classic piano patch in action:
Should The Kurzweil PC Series Be Among The Best Digital Pianos And Keyboards?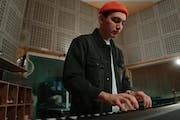 The short answer is yes.
Overall, the Kurzweil PC Series live up to their reputation.
This is evident in the Kurzweil PC4, continuing with even more expanded capabilities.
Kurzweil PC Series keyboards, especially the 88-key ones, tend to be on the heavy side among the portable piano options.
At 50 lbs (23 kg), it was a big chore for me to haul my PC2x to gigs every night. However, they are sturdy, rugged instruments.
The Kurzweil PC4 has an MRSP of $2499.99 USD although you can get something like a PC3k8 or a PC2x for way less on the second hand market.
Let's check out a budget friendly option from Kawai.
Kawai ES110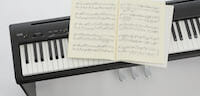 When talking about the best digital pianos and keyboards, it would be hard to not include Kawai.
Just like Yamaha, they have plenty of chops when it comes to acoustic pianos, and their digital piano offerings are no different.
Features
A Kawai digital stage piano anyone can afford, the ES110 comes packed with features that will appeal everyone from beginner to professional.
It boasts of a a graded hammer action keyboard called "responsive hammer compact keyboard action."
In terms of sounds, it has a collection of 19 sounds that can be used in both split and dual layer mode.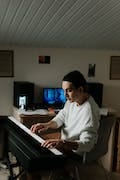 The most important among these sounds is the Kawai EX grand piano sound that has been sampled in all 88 keys.
It has a generous 192-note polyphony. Even if you go Liszt or Rachmaninoff, you definitely won't run out of notes.
Connectivity options include:
Two dedicated 1/4″ L/Mono and R outputs, MIDI In and Out
Two 1/4″ headphone jacks (most useful for quiet practice and working with a teacher in a piano lab)
A standard 1/4″ input port for a sustain pedal
Bluetooth MIDI for wireless control of virtual instruments and other apps in mobile devices and computers.
Performance and Pricing
Playing Kawai keyboards is delightful. The ES110's keyboard has a great feel, and the built-in sounds are awesome.
I especially love its Bluetooth MIDI function.
This means you can use your favorite virtual instruments without the need for MIDI cables and adapters.
Lugging the ES110 is not a problem as well. It is a lightweight keyboard at 26.5 lbs (12 kg) that doesn't sacrifice weighted action.
The Kawai ES110 retails at $699 USD, and so it's a really affordable option for many.
Let's look at some offerings from another trusted maker called Roland.
Roland FP-30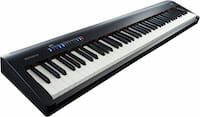 Among the keyboards on this list, the Roland FP-30 has the simplest interface but with the best keybed feel out of all the instruments listed here.
Features
The Roland FP-30's panel features only a couple of buttons:
Power switch
Volume up and down
A bluetooth/function button
3 assignable tone selection buttons
A split keyboard function
Metronome/beat on/off switch
Tempo
Song record and play
For additional functions and control, you can connect the Roland FP-30 via bluetooth to Roland Piano Partner 2. Roland Piano Partner 2 is an app that effectively turns your mobile device into a remote controller.
Inside Roland Piano Partner 2, you can assign the sounds you can access per tone select button, use backing tracks, create and define splits, and even access music flash cards and digital sheet music.
Performing With The Roland FP-30 Made Me Say It's One Of The Best Digital Pianos And Keyboards
Here's an example of a practice session using the Roland FP-30
Again, the best feature in the FP-30 is the keybed.
The keybed is an 88-note keyboard with graded piano action that (I would say) is extremely close to an acoustic concert grand piano.
It's also reasonably lightweight at 31.1 lbs (14.11 kg) and can be lugged to various venues for live gigs if need be.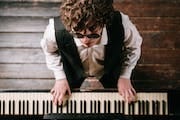 For home or bedroom practice, you also don't have to worry about connecting it to an amp because it has 2 built-in 11-watt speakers.
You can get realtime control with the Roland FP-30 using Piano Partner 2.
For this reason, it's best that you have Piano Partner 2 installed on your iPhone, iPad, or Android phone especially when playing live. 
If you're looking for something even more portable, check out the next one below.
Roland GO:PIANO88
If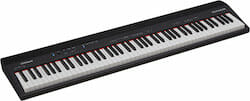 you want something that has full-sized 88 keys yet so lightweight that you can take off with it anywhere, then the Roland GO:PIANO88 might be the instrument for you.
The Lightest Among The Best Digital Pianos And Keyboards
The Roland GO:PIANO88 sports 88 full sized keys and features that are very similar to the FP-30.
However, these are all bundled  in a more lightweight package.
At only about 15 lbs (around 7 kg), this is one of the lightest.
It has to be noted, however, that in order to reduce the weight, Roland had to use a semi-weighted action keyboard on the GO:PIANO88.
Such is a compromise that had to be taken in order to improve portability. However, the full-sized keys still allow for optimum classical piano technique.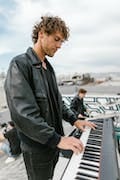 The GO:PIANO88 also sports two onboard Bluetooth speakers that allows you to connect your mobile device. It's the same way you would use any Bluetooth speaker system.
With that being said, the GO:PIANO88 can operate completely wireless via battery power and Bluetooth connectivity. You need 6 D sized batteries if you don't want to use the included power adapter.
In terms of sound, the GO:PIANO88 has 4 tone categories: Piano, E. Piano, Organ, and Strings. You can expect it to have a stunning selection of tones, especially the piano samples.
Its 128-note polyphony is more than enough to help you get all those pianistic effects you need in a highly portable package.
On the opposite end of the spectrum, you might want something heftier from Roland. Check this one out.
Roland RD-2000
The Roland RD series have a long history of being among the best digital pianos and keyboards on the market.
One of the most recent ones in this line is the Roland RD-2000.
The RD-2000's Features Gives It A Place In The List Of The Best Digital Pianos And Keyboards 
This digital piano features a variety of sound engines.
One of these is Roland's SuperNATURAL technology. This provides you with a great range of piano recreations including electric pianos from the '60s, '70s, and '80s.
Of course, it's also natural to expect stunning recreations of various acoustic pianos through the V-Piano sound engine.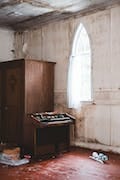 If you want to get some Hammond organ action a la Jimmy Smith, you can use its virtual tonewheel organ engine as well.
These sounds, as well as a variety of others can help you recreate sounds from hit songs across decades.
The RD-2000's PHA-50 mechanism (progressive hammer action) with escapement recreates the feel of an acoustic piano.
This facilitates piano technique as well as exceptional responsiveness.
You also get a good deal of realtime control over sounds and effects using:
Assignable 8 knobs and 9 sliders which can help you with creating layers and splits, realtime control over effects, and Hammond drawbar emulation.
Two modulation wheels and a pitch bend/modulation joystick. These provide maximum level of expression.
Ready for the studio and stage, the RD-2000 also features a good deal of connectivity options:
L/MONO and R outputs in both 1/4″ phone type and balanced XLR formats
Sub out
3.5-mm headphone jack
TRS phone type pedal jacks
MIDI In/Out/Thru 1/Thru 2 connectors
USB connectivity.
Pricing and Performance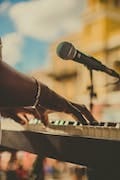 Given the RD-2000's wealth of features, it weighs about 21 kg or about 47 lbs. It definitely is not lightweight. However, the tradeoff for using such an instrument is worth it.
The piano action with escapement coupled with the sounds from the virtual piano engine provide an experience close to acoustic grand pianos.
The wealth of controls available is also astonishing as they give you more control than what you'd expect from a stage piano.
The Roland RD-2000 is about $2699 MSRP. It's a worthwhile significant investment for the serious musician.
Now let's check out a budget friendly offering from Yamaha.
Yamaha P Series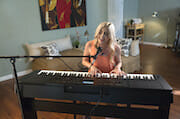 If you want a budget friendly option from the best digital pianos and keyboards, you won't go wrong with another reputable manufacturer like Yamaha.
That is none other than the Yamaha P Series.
Why The Yamaha P Series Belong To The Best Digital Pianos And Keyboards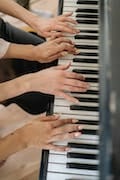 The P Series digital pianos sport 88-key natural response keyboards that replicate the feel of acoustic Yamaha pianos.
Soundwise, each P Series digital piano has at its heart stereo samples from the flagship Yamaha CFX concert grand piano.
More than having great sounds and phenomenal keyboard action and response, these pianos possess VRM technology (virtual resonance modeling).
This allows each P series piano to recreate the resonance of an acoustic piano soundboard, rim, and frame. It adds another layer of realism and feel even when headphones are plugged in.
If you intend to use a Yamaha P series digital piano as a more permanent installation, the matching furniture stand works well.
Connectivity options for Yamaha P series instruments include standard 1/4″ jacks for audio outs, sustain and expression pedal inputs, and headphones.
The built-in USB port allows you to connect the instrument to computers and mobile devices for expanded capabilities such as virtual instruments and MIDI sequencing.
Here's an example of a performance using a DGX-670:
Some Insights And Pricing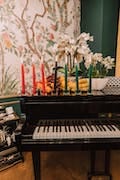 The P Series instruments are very delighful to play. With impressive sounds and feel, they really are wonderful portable alternatives to an acoustic piano.
If you're a fan of their PSR arranger keyboards but want 88 weighted keys, the DGX models are your best bet.
Pricing for the Yamaha P Series instruments start at $549.99 USD for the Yamaha P-45 and all the way up to $849.99 for the Yamaha DGX-670 (which is also a full-featured arranger keyboard).
If you're wondering what the real flagship keyboard is among the Yamaha "portables", check out the next one. 
Yamaha Montage

If Korg has the Kronos, then Yamaha has the Montage.
The Montage definitely has a place among the best digital pianos and keyboards.
Sonic Possibilities
This keyboard line has 61, 72, and 88-key versions. The 88-key one having a nice balanced hammer action keyboard.
In terms of sounds, the Montage stores its samples in its AWM2 (Advanced Wave Memory) sound engine.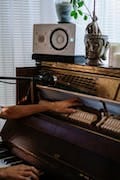 AWM2 recreate the realism of acoustic instruments, notwithstanding its acoustic piano sounds.
You can easily expect the Montage to have samples derived from a 9-foot Yamaha concert grand piano, a collection of electric pianos, clavinets, and others.
The AWM2 engine a 128-note polyphony. With 10 times the waveform capacity of its predecesor, the Motif XF, it has unparalleled sound quality among Yamaha keyboards.
Additionally, a generous 1.75 GB of integrated flash memory allows you to create your own custom sounds in AWM2 bank alone.
Another sound engine that this beast has is the FM-X (frequency modulation) engine.
An advancement of technology from the pioneering Yamaha DX7, it's a pure synthesizer engine.
The FM-X gives you a range of classic synth sounds stemming from the 80s all the way up to today's EDM.
To even go further in tonal variation and expression, both of these engines are routed to the Motion Control Synthesis Engine.
Why Would A Big Blinking Knob Place The Montage In A List Of The Best Digital Keyboards And Pianos?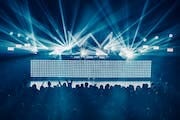 If you see the big, blinking Super Knob, that's your main interface to take control of the Motion Control Synthesis Engine.
The Motion Control Synthesis Engine allows you to integrate both the AWM2 and FM-X engines in all sorts of configurations (layers, splits, live morphing, etc.) across 8 parts in a single performance.
The Super Knob's function is highly assignable, allowing you to create all sorts of expressive effects.
If both of your hands are too busy, you can attach an optional expression pedal and route it to the Super Knob. This gives you an even more great deal of expressive control.
The Montage also has all sorts of bells and whistles you might expect from a keyboard such as:
9 assignable sliders, 8 assignable knobs
Pitch bend and modulation wheels
A ribbon controller, 2 assignable switches
Connectivity options such as MIDI in/out/thru, standard 1/4″ balanced outputs (L/Mono and R), foot switch and foot controller inputs, headphones output, USB connectivity, and two A/D inputs (L/Mono and R).
Here are more details about the Yamaha Montage:
Some Thoughts And Pricing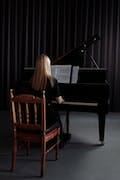 You might be wondering why would you need those inputs? This is because the Yamaha Montage also works as an audio interface that you can connect to computers and mobile devices.
More than that, you can also start sampling your other keyboards via MIDI using SampleRobot for Montage.
Instead of hauling racks and racks of keyboards, you can just have your keyboards and sound modules sampled by Montage, allowing you to access all of your sounds into a single instrument.
Montage is possibly Yamaha's ultimate stage and studio instrument.
The Yamaha Montage 8 carries an MSRP of $3,999. It's a serious investment for the dedicated musician.
Now that we've looked into a good selection of portable options, let's go into those designed as more permanent fixtures.
Yamaha Clavinova: A Mainstay Of The Best Digital Pianos And Keyboards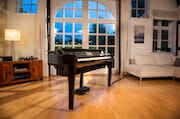 Now is the time on this list of best digital pianos and keyboards to move away from the portables and synthesizers and into something more dedicated towards being "pianos".
First on this list is the Yamaha Clavinova series.
The Clavinova has a long history in the digital piano market.
In 1983, it was Yamaha's attempt to recreate the concert grand piano experience in a compact, electronic instrument.
Nearly four decades later, Yamaha Clavinovas are still among the best digital pianos and keyboards on the market.
Here's a presentation of the Yamaha Clavinova:
Three Variations And Basic Features
Yamaha Clavinovas are split into 3 main lines: the CLP,  CSP, and CVP series.
All of these Clavinovas feature a graded hammer action keyboard, 3 pedals (sustain, sostenuto, soft/una corda), and piano samples recorded from flagship Yamaha and Bosendorfer pianos.
Apart from these, each Clavinova line has its distinctions.
CLP Series
The CLP series are designed as electronic substitutes for home pianos.
As Yamaha states, these CLP Clavinovas are designed to play like grand pianos, replicating the feel and tone of one.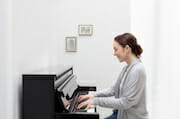 Apart from the standard concert grand piano samples, these ones also have built in fortepiano samples.
These fortepiano samples recreate the instruments that great classical composers such as Mozart, Beethoven, and Scarlatti used during their lifetimes.
The CLP models also come in both grand and upright styled housing.
If you're more of a "classical" music aficionado, then then CLP might be right for you.
Yamaha CLP Clavinovas range from $2,199 for the entry-level model up to $6,999 for the full-featured models.
CSP Series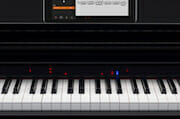 The CSP series is ideal for educators, students, singer-songwriters, and contemporary music enthusiasts.
Called the world's most advanced piano teacher, the CSP Clavinovas have features such as:
A songs library
Complete control using the Smart Pianist mobile app
Smart Pianist Audio To Score (a music transcription feature that turns your favorite songs into easy-to-play sheet music)
"Stream Lights" LEDs that light up to indicate the notes to be played.
To augment the learning experience, the CSP comes equipped with Vocal Harmony 2 and automatic accompaniment.
Vocal Harmony 2 feature allows you to connect a microphone and sing along with up to 4 background singers (the harmonies of which are determined by what chords you play).
Accompaniment Styles provide you with your very own backing band for your own performances. The CSP Clavinovas range from $3,999 up to $5,399 MSRP.
CVP Series: The Most Entertaining Among The Best Digital Pianos And Keyboards?
Last among the Clavinovas is one that can go toe to toe with many arranger keyboards: the CVP Series.
The CVP Clavinovas have have similar features to the CSPs such as the guide lights for keys, Accompaniment Styles, and Vocal Harmony 2.
However, the CVP series is equipped with an intuitive touchscreen for more detailed control, Piano Room with Session Mode, and SA2 voices that add more realism to its wide array of sounds.
Piano Room with Session Mode is a really interesting feature in the CVP Clavinova. This is where you can get to have up to 3 virtual musicians playing with you that follows your chord changes. Additionally, you can also record each session with a single touch of the button. 
The CVP Series Clavinovas can range from $5,299 to $15,999 MSRP depending on model and specifications.
Now it's time to go focus on something way more closer to an acoustic piano.
Yamaha AvantGrand
If you want the closest thing to an acoustic piano feel while going electronic, check out the Yamaha AvantGrand.
Why The Yamaha AvantGrand Belongs To The Best Digital Pianos And Keyboards List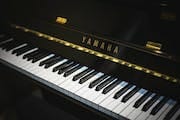 Essentially, the Yamaha AvantGrand series is the closest that you can get to an acoustic piano feel.
It has wooden keys, ivorite and ebony, and acoustic piano escapement mechanism.
In short, it has everything you might find on an acoustic grand piano…except the strings and an actual soundboard.
Yes you read it right. Every Yamaha AvantGrand is stringless.
In place of strings, the AvantGrand uses piano samples. These samples have been recorded from four different positions of a Yamaha concert grand piano's soundboard.
The acoustic piano mechanism triggers samples via a contactless optical sensor system. This replicates the same nuance of control on an acoustic piano while minimizing wear and tear.
Adding to that acoustic piano experience is the Virtual Resonance Modeling (VRM) feature.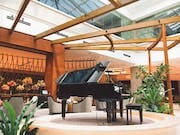 VRM simulates the way the strings, soundboard, and body resonate. Not only do you hear some of the most accurate piano sounds, you can also feel them as well.
The AvantGrand, being focused on emulating the acoustic piano, has a limited number of sounds (10 at most).
However, among the best digital pianos and keyboards, this one tops them all in terms of emulating the acoustic piano experience.
Volume is not a problem for the AvantGrand as they can have anywhere between 30W speakers for the N1X up to 80W for the N3X. Quiet practice is not a problem with the headphone port and the same VRM still in action.
Certainly not for the faint of heart, pricing for the Yamaha AvantGrand starts at $8999 MSRP for the N1X and goes all the way up to $22,199 for the N3X.
Now that we've gotten these instruments out of the way, let's take a look at how to decide which piano is the best.
How To Choose Among The Best Digital Pianos And Keyboards
Now that you have a good selection of digital pianos to choose from, how do you pick one that's right for you?
This is a serious question you'd have to consider very carefully.
5 Questions To Ask Yourself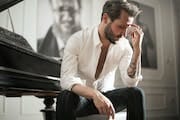 First, you need to determine whether the digital piano will be a fixed installation or a portable. Decide if the instrument is going to be in one room all the time or is something you'll always lug around.
Second, how much variety of sounds do you need? Do you just want a really great piano sound and wouldn't care about any others? Would you like a huge palette of sounds to get inspired to write and arrange music?
Third, ask yourself how much space do you have to set up a digital piano? Do you need something you can easily tuck away or do you have enough floor space for a big instrument?
Fourth, do you plan to use it as a practice instrument, play on it as a hobby, or are you aiming for more serious work like arranging and performing professionally? Pro-level gear normally costs more for good reason.
Lastly, how much is your budget? That one is already a given.
Other Considerations To Pick The Best Digital Pianos And Keyboards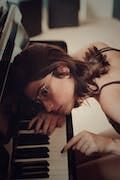 Also take note that some of these other keyboards don't come with their own speakers and amplifiers and sustain pedals.
And so, for certain models like most of the synthesizers and workstations (Korg Krome, Roland RD-2000, Yamaha Montage, etc.), you need to pick up cables, pedals, stands, and keyboard amplifiers separately.
You have to take those into account when computing for cost.
When purchasing one of these instruments, pick up a brand new one when you can to make sure that the electronic components are still fresh.
Over years of use, some items like internal batteries for memory in older keyboards need replacement.
If you have to pick up a second-hand instrument, make sure to check it out first and test to see if they're still in great condition.
You can get a really good deal on a second-hand instrument that's still in good condition. This may be a good option if you have a limited budget.
Some Final Words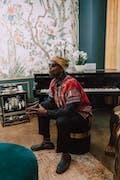 I hope that this list of the best digital pianos and keyboards has helped you decide on your next instrument purchase.
What do you think about the list? Did we miss anything?
Would you like to offer what you think belongs to the roster of the best digital pianos and keyboards? Let us know in the comments below. Thanks.
IMAGE SOURCES:
ALESIS RECITAL PRO: https://www.alesis.com/products/view/recital-pro
casio privia: https://casiocdn.com/casiomusicgear-v2/resource/img/prod-range/privia-spotlight3.jpg
KORG KROME: https://cdn.korg.com/ph/products/upload/3bf815dd9c275c594238f387144e8a6d_pc.jpg
korg sv-2 image:https://cdn.korg.com/ph/products/upload/365a127b75dfc8d4fc4c97aed6d9cdbf_pc.jpg
12ax7-A KORG sv-2 Image: https://cdn.korg.com/ph/products/upload/b7a8750bed0701018186d2aeff4dd7bb_pc.jpg
KORG KRONOS 88 IMAGE: https://cdn.korg.com/ph/products/upload/5d68a3ef69f486a233f0b4dfdf905099_pc.png
KURZWEIL PC4 IMAGE: https://kurzweil.com/wp-content/uploads/2019/11/PC4.jpg
KAWAI es110 image: https://www.kawai-global.com/mgr/wp-content/uploads/2016/12/img_es110_slide_pc_5_982_logo.jpg
ROLAND FP-30 IMAGE: https://static.roland.com/assets/images/products/gallery/FP-30_BK_DR_gal.jpg
YAMAHA CLP SERIES IMAGE: https://www.yamaha.com/us/pianos/images/CLP-785PE-image-106_2560.jpg
yamaha csp series image: https://www.yamaha.com/us/pianos/images/design_synapses_photo_Clavinova_CSP_z_0002.jpg
ROLAND RD-2000 image: https://static.roland.com/products/rd-2000/features/images/gallery_side.jpg
yamaha cvp series image: https://www.yamaha.com/us/pianos/images/cvp-hero.jpg
Yamaha montage image: https://usa.yamaha.com/files/MONTAGE8WH_o_0001_5931e2f68b54f9023fe0c760f0fd68b9.jpg?impolicy=resize&imwid=4000&imhei=1427?imbypass=on
ROLand GOPIANO88 Image: https://static.roland.com/assets/images/products/gallery/go-88p_dl1_gal.jpg
yamaha clavinova IMAGE: https://www.yamaha.com/us/pianos/images/CVP-809GP.jpg
yamaha p series IMAGE: https://www.yamaha.com/us/pianos/images/DGX-660-Key-Visual.jpg